Happy Belated Valentine's Day!
I hope all you have had a chance to share the love yesterday with friends and family. I'm slooowly recuperating from some form of the plague, but I wanted to share a little love project I made for my honey in lieu of a card. I usually do get him a card, but with the way I've been feeling, venturing out to stand upright for a prolonged period in a card aisle, plodding through a lot of bad cards to find that one perfect one just wasn't happening this year.
Instead I made him this-
A handful of card stock, cut into business size cards, hole punched & bound with a book ring and you've got a mini book, ready to fill with ooey gooey sentiments of love. I won't share what I wrote on the cards, but I will say they were all things that I love and admire about my husband.
I had so much fun making this for him, that it's inspired me to make more. Linda of a la mode STUFF created "Project Letter Writing" this year as motivation for herself and others to bring back all that's awesome about snail mail.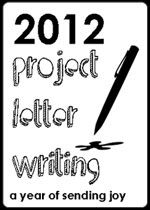 I hesitated to join at first since I have so many project & ideas of my own I want to act on this year, but when I saw the potential to incorporate the two, I signed on. So for this month's "project letter writing", I'm working on a mini book of doodles and memories to send to a friend, similar to the one I made for my husband. And while it's not a letter per se, it is a little pocketful o' joy that I'm sending her way, which is the whole point of the project.
Interested in joining? Click here.